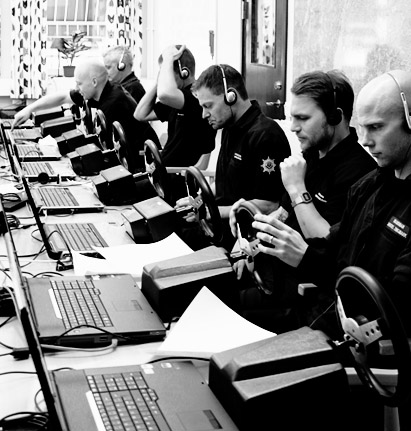 Driving efficiently means to drive fast but safely
Fire brigades, ambulance and police services have high demands on their drivers. They need to quickly and safely reach their destination every time. To train this in an efficent way we have, in collaberation with the ambulances service of Skaraborg county developed the Road safety Trainer.  Here we focus on minimizing the drivers' risk-taking and thus reducing the number of accidents. In the theoretical part of our training, the drivers learn risk assessment and how to increase the average speed and safety by planning their driving. This is followed by driver training in the Road Safety Trainer. Everyone takes on progressively harder exercises at their own pace. The drivers also get the opportunity to demonstrate what they have learned by competing against each other. With the help of this equipment the course participants undertake practical driving exercises in a variety of situations. All drivers are followed individually which makes it possible to compare the results and follow the development of each one of them. Our customers have documented examples of how the course drastically has reduced damages.
References:
"We noted that this tool not only gave a lower consumption, but more importantly, increased driver awareness in traffic. We also know that this proactive driving technique have reduced traffic accidents at some firms by up to 70%."
Göran Björn – Education administrator, Rescue services storgöteborg (The larger area of Gothenburg).
"We are very satisfied with the training. Everyone at the station is talking about it and we've noticed a big change in how the drivers behave in traffic. The method where StageIT managed the whole education suited us very well".
Stefan Löfgren – Team leader, Rescue services Alingsås – Vårgårda
"Eco2Trainer is a great tool to make the drivers better at planning ahead and thus improve the trafficsaftey. We see a clear difference in the driving behaviour of the drivers who have undergone training with the Eco2Trainer, compared to our other drivers. We often hear that Eco2Trainer is an easier and more fun way to learn efficient driving than traditional education. "
Jonas Åsberg – Responsible for traffic educations at the ambulance of the Skaraborg county.